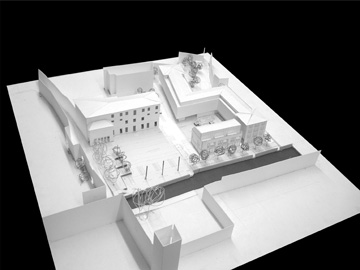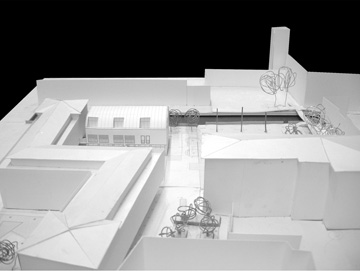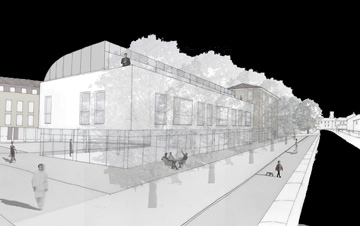 Thinked as an architectural scale development of the bigger masterplan designed by Studio Redaelli Speranza, the residential building – with commercial functions on the ground floor – is located in an extraordinaty place born from the relation of Naviglio Martesana and the town of Gorgonzola.
The aim of the project is to generate an urban pavillion with a marittime character, in order to connect the renewed public space of Vicolo Corridoni, with the Naviglio and the old town. The commercial ground floor take collective functions in a renewed piece of town, strategical to recreate a relation with Martesana and palazzo Pirola. On the upper floors are the duplex flats, which their metal barrel vault becomes a Naviglio's landscape icon.
Flats entrance is put on the north landing, which uses the adjoining building's stairs; flats have a living area on the lower level, with a terrace facing the Naviglio, and a sleeping area on the higher level, covered by barrel vault, where bedrooms face a patio southbound and towards the Naviglio, constant presence in the spirit of the place and in the residential building project.
location
Gorgonzola, Milano.
architects
Studio Redaelli Speranza architetti associati, Milan
Gaia Redaelli, Vito Redaelli, Anna Speranza with arch. Diego Brieva
client
Impresa Luigi Cividini s.p.a.
design team
Eduardo Benavides, Francois Mertens
design phase
2006