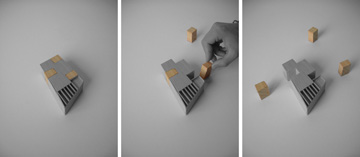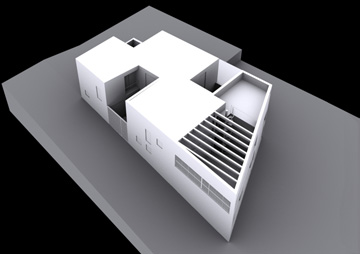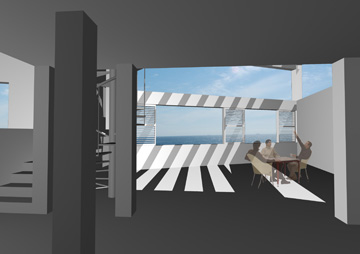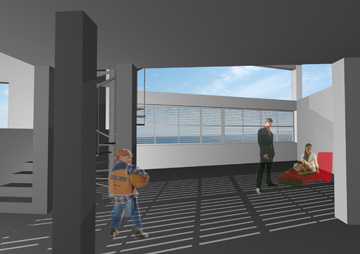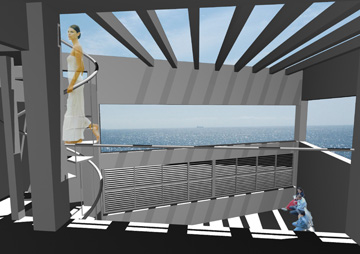 Located in Las Negras town, the project site stands on the border between the town and the sea.
This privileged location and client's need of a two flats house, defined the project as a mass subtraction from one single volume. Three big patios – digged in the volume – light every room as privileged open air areas and generate interesting views from the inside of the building; westboud, towards the sea, the volume's corner is emptied generating a terrace on the round floor, but slightly higher than the road because of the topography, opening a great horizon view.
From the master bedroom, on the upper floor, repeating the alternation of patios and building, and from the music room, the sea comes in the house, true protagonist of this project. The music room, located behind a big square window, is setted on a splitted level, between the garage's entrance and the solarium, in the north est of the volume.
The white plaster on the building's perimeter, respecting the urban mediterranean landscape, is in opposition to the wood panels used inside the patios, more man-sized.
location
Cabo de Gata, Almeria, Spain
client
private
architects
Studio Redaelli Speranza architetti associati, Milan
Gaia Redaelli, Vito Redaelli, Anna Speranza
Beuve arquitectos, Sevilla
Diego Brieva, Carlos Violadé
design team
Paolo Sterni, Javier Román, Sara Tena, Jesús León (strutture)
design phase
2008