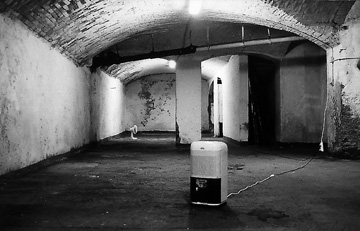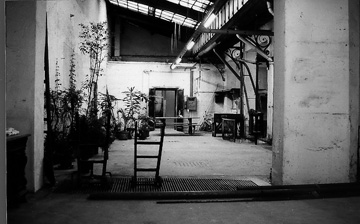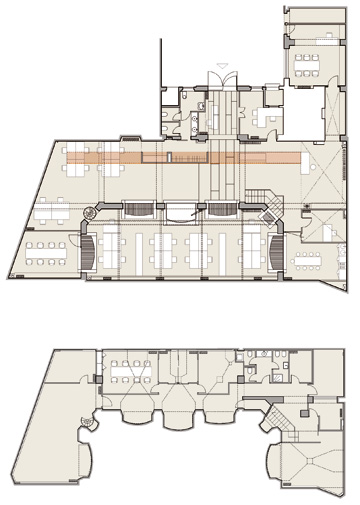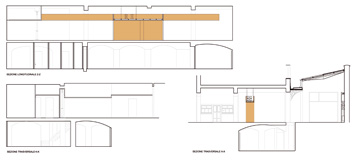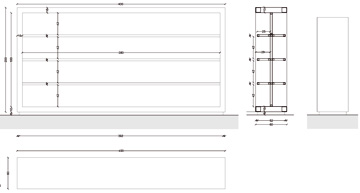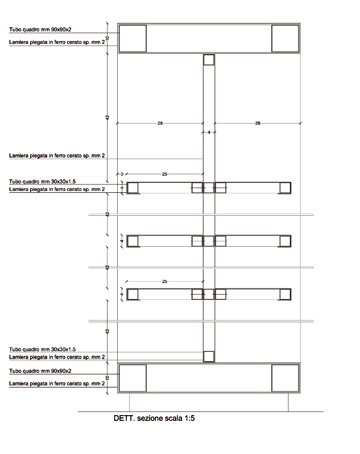 Refurbishing an 20th century industrial culture-civilization place – an abandoned factory for raw material manufacture in the old town of Milan – as a typical contemporary culture-information productive space – a market research company – is the basis of this project for a space full of history and possilibilies.
Two levels, a ground floor occupying the building's second yard, covered in the beginning of the 20th century, and a cross-vaulted basement made of bricks; the intervention reveals the pre-existences and actualize the values and the memories of this colonial flavour space, taking them alive with totally different functions.
The project however make new compositionalò and constructive chioces: a big orange "T" shaped architectural sign – the new company colour – hides the new technological system needed and separates service speces from operative spaces. Beside original stone made floors, the project puts a concrete floor recalling the pre-exsistent industrial character. Yard cover's old cast iron pillars and brackets are renovated and put side by side with a cover fit to new function's lightning needs. Etched glasses separate innermost zones – kitchen, meeting room – from the open space working area. Exsisting radiators are put side by side with new forniture specifically designed by Studio Redaelli Speranza: birch wood tables, iron and etched glass sliding doors, and, especially two big iron bookcases which create intimity for usres. Different materials re-discover the place's memory and create an unique space.
location
Milan
architects
Studio Redaelli Speranza architetti associati, Milan
Gaia Redaelli, Vito Redaelli, Anna Speranza with arch. Christoph Angst
client
People S.r.l.
design team
Mariacristina Bottini
design phase
2001
construction phase
2002
photos
Vito Redaelli
publishedin
Abitare, n°421, ottobre 2002