hectares > urban design
2007 > TOURISTIC COMPLEX IN PUERTO SERRANO, CADIZ
Feasibility study for sustainable touristic complex in Puerto Serrano, Cadiz (Spain) with new urban and territorial settlement.
photos / design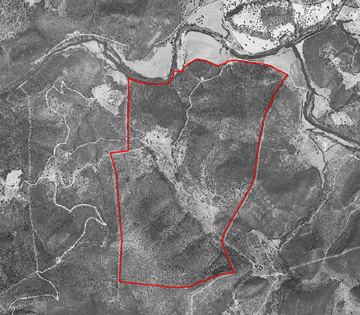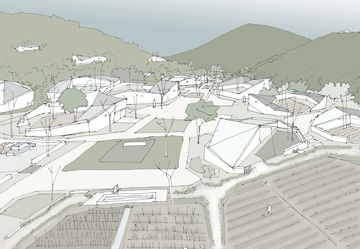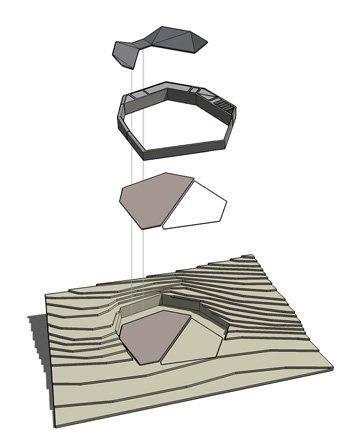 The aim of the project is to define the environmental and functional conditions to activate a semi-abandoned rural territory, in the Cadiz province, in the south of Spain. The main target is to create a sinergy between active tourism and semi-temporary residence and local rural productive activity with the highest sustainability, through a methodological and managerial proposal of an indivisibile proprietŕ.
The principle aim is to interact with the topography and the landscape character of the site, with oak trees planted on the hills.
The project starts from a basic housing unit, the Aldea, a 150 sqm land lot placed among the exsisting trees which adjust its typological arrangement to the vegetation. Each unit's roof, with a 250 sqm maximum area, is an slanting surface that doesn't interfere with nature, carrying the rainwater to an aljibe (container).
Four principles of settlement locate those units in the landscape: connections with transport and purification infrastructures; habitat definition with collective or single units; functional areas individuation for agricultural production, for sale of local products, public services (restaurants, shops), for school-recreational activities, for active tourism activities aware of environmental values.
location
Puerto Serrano, Cadice (Spain)
architects
Studio Redaelli Speranza architetti associati, Milan
Gaia Redaelli, Vito Redaelli, Anna Speranza
Beuve arquitectos, Sevilla
Diego Brieva, Carlos Violadé
client
Territorio y Ciudad
design team
Javier Román
design phase
2006-2007